Back To Our Services
Can you count how many keys do you use daily? From your office to your garage and from your car to the smallest cabinet at home, there are innumerable locks that keep your personal things safe. Though, these simple mechanical tools are not decorative elements and when you go out of Valley Center for a trip to another place in California, you must be sure that you leave behind a safe home and that your car will take you to your destination without giving you any trouble.
During these short or long trips, every time you go to work each morning and, basically, every time you turn the car key in the ignition, it's important to know that your back is covered by Emergency Locksmith Valley Center. Our ultimate goal is to assist you when you are facing an emergency and keep away the potential dangers. When you are calling us with your emergency, we speed up towards your location not only because we want to save you from the hassle of waiting but, mainly, because you might be threatened by a danger. When you are locked out of your house, someone else may be locked in and our emergency lockout will assist in letting you in to be close to your small child or needy person.
Emergencies don't happen every day but, when they do they can misbalance your life since everything can happen in just a few seconds.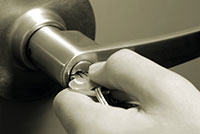 In these cases, our velocity depends entirely from our organization, the competence of our locksmiths, and the equipment, and you can rest assured that our emergency locksmith company makes sure that all three factors work together well for your benefit. The problem may be the result of losing your keys or of a broken key in the lock, but what's important is not the cause but its quick diagnose and treatment and when it comes to such repairs Emergency Locksmith Valley Center is the top company for immediate response and effective results.
Some people spend more hours in their cars rather at their offices or their cars are actually their offices; in any case, they drive long distances every single day and often have to go through remote or dangerous areas. You may be very careful with your car keys, but since you never know what may happen, it's good to know that our emergency car lockout service can put you out of a difficult situation quickly. Your ignition key may suddenly break in the engine or the transponder key may not communicate properly with the locks but, regardless of the problem or whether your car is of old or new technology, our locksmiths specialize on auto problems, too. That means they can deal with the problems of the lock mechanism, retrieve blocked keys or replace broken ones at the spot. Even when you need an emergency trunk opening, our vans will arrive at your location fast and the locksmiths will unblock the lock fast.
In reality, people cannot calculate how many keys they are using every day with precision or how many codes and passwords they need to remember but, practically, this is indifferent because the significant part is that each key and lock can be repaired and replaced in minimum time with our 24 hour emergency locksmith service.
Back To Our Services